Genre(s):
Grindcore (first demos), Black Metal (early), Black/Gothic Metal (now)
Lyrical Theme(s):
Sorrow, Anti-Christianity, Emotional Torment, Occultism, Greek Mythology
Origin:
Greece (Athens)
Formed In:
1987
Status:
Active
Current line-up:
Sakis Tolis (aka Necromayhem) - Guitars, Vocals (1987-) (Thou Art Lord, Desolation (Grc))
George Bokos - Guitars (2005-) (Sickening Horror, Obsecration, Nightfall (Grc), Exhibition (Grc))
Andreas Lagios - Bass (1996-) (Nightstalker (Grc))
Themis Tolis (aka Necrosauron) - Drums (1987-) (Zemial (Grc))
Former/Past Member(s):
Kostas Vassilakopoulos - Guitars (1996-2004)
Jim Patsouris (Mutilator) - Bass (1988-1996) (Varathron)
Magus Wampyr Daoloth (George Zaharopoulos aka Morbid) - Keyboards, Vocals (1993-1994) ) (Diabolos Rising, Raism, Necromancy (Grc), Septicflesh, Thou Art Lord, Mortify (Grc), N.A.O.S., Wampyre Shadow Wolf, Necromantia, Tatir)
Panayiotis - Keyboards (1997)
George (Georgios Tolias) - Keyboards (1999-2004)
Additional notes:
Originally started as grindcore, but after Satanas Tedeum they became a straight up black metal act. In due time, the band headed towards the gothic realm and lost their black metal element. On Sanctus Diavolos they blackened their sound again. With Theogonia, the band had started incorporating many folk elements in their sound. Also they have Demo rehearsal [1988] (27 songs).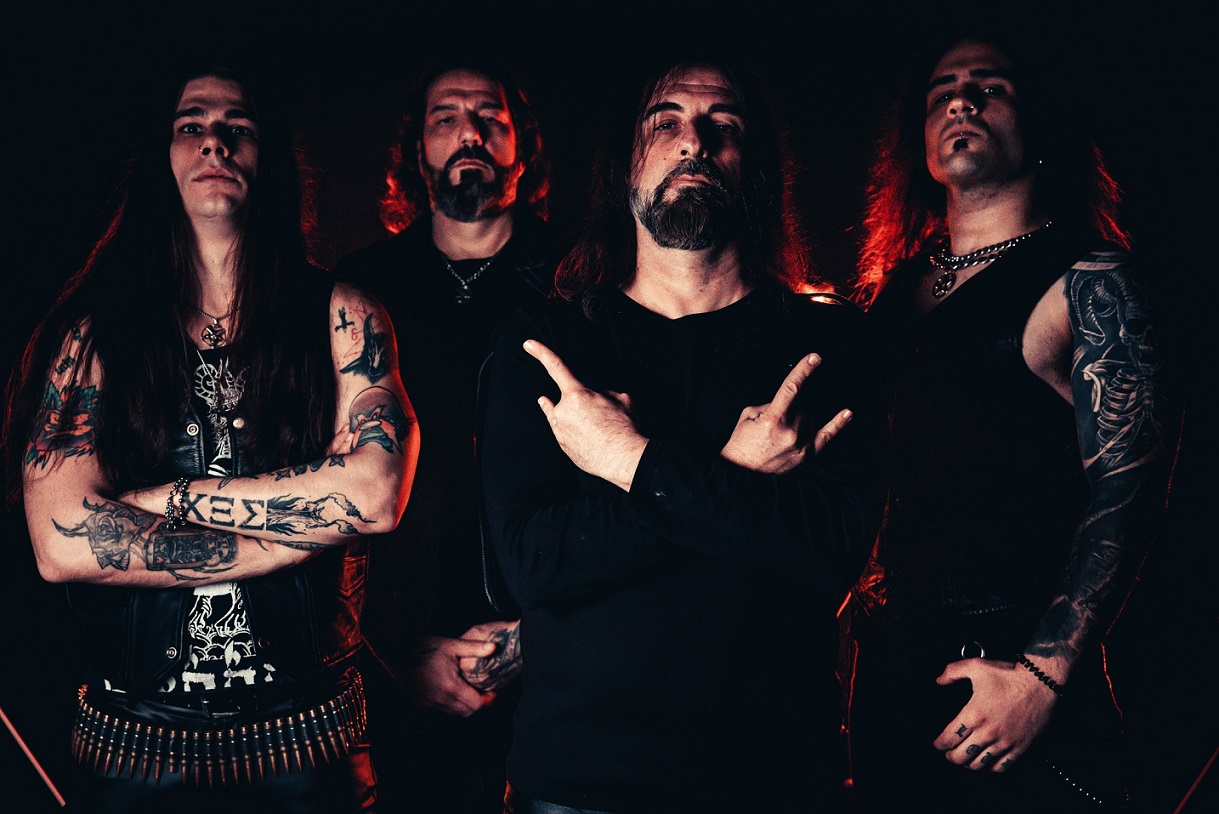 Discography:
Rotting Christ - Decline's Return [demo] - 1988
Rotting Christ - Leprocy Of Death [demo] - 1988
Rotting Christ & Sound Pollution - The Other Side Of Life [split] - 1989
Rotting Christ - Satanas Tedeum [demo] - 1989
Rotting Christ & Monumentum - Rotting Christ/Monumentum [split] - 1991
Rotting Christ - Dawn Of The Iconoclast [ep] - 1991
Rotting Christ - Passage To Arcturo [ep] - 1991
Rotting Christ - Ade's Winds [demo] - 1992
Rotting Christ - Apokathelosis [single] - 1993
Rotting Christ - Thy Mighty Contract [full-length] - 1993
Rotting Christ - Non Serviam [full-length] - 1994
Rotting Christ - The Mystical Meeting [best of/compilation] - 1995
Rotting Christ - Triarchy Of The Lost Lovers [full-length] - 1996
Rotting Christ - The Mystical Meeting [ep] - 1997
Rotting Christ - A Dead Poem [full-length] - 1997
Rotting Christ - Der Perfekte Traum [ep] - 1999
Rotting Christ - Sleep Of The Angels [full-length] - 1999
Rotting Christ - Khronos [full-length] - 2000
Rotting Christ - Genesis [full-length] - 2002
Rotting Christ - Sanctus Diavolos [full-length] - 2004
Rotting Christ - Passage To Arcturo + Non Serviam [best of/compilation] - 2006
Rotting Christ - Theogonia [full-length] - 2007
Rotting Christ - Thanatiphoro Anthologio [best of/compilation] - 2007
Rotting Christ - Semigods Of The Serpent Cult [best of/compilation] - 2009
Rotting Christ - AEALO [full-length] - 2010
Rotting Christ - Early Days [boxed set] - 2012
Rotting Christ & Negative Plane - Rotting Christ/Negative Plane [split] - 2012
Rotting Christ - ΑΠΟΚΑΘΗΛΩΣΙΣ [best of/compilation] - 2012
Rotting Christ - Κατά τον δαίμονα εαυτού [full-length] - 2013
Rotting Christ - Lucifer Over Athens [live] - 2015
Rotting Christ - King Of The Stellar War [best of/compilation] - 2015
Rotting Christ - Rituals [full-length] - 2016
Rotting Christ - Their Greatest Spells: 30 Years Of Rotting Christ [compilation] - 2018
Rotting Christ - The Call [ep] - 2018
Rotting Christ - The Heretics [full-length] - 2019
Rotting Christ & Varathron - Duality Of The Unholy Existence [split] - 2019
*****
Official site:
www.rotting-christ.com