Genre(s):
Raw Black Metal
Lyrical theme(s):
Satanism, Orthodoxy, Fanatism
Origin:
France (Nancy, Lorraine)
Formed in:
1998
Status:
Split-up
Last known line-up:
Aguares - Vocals (Ensamhet)
Akhaeus - Guitars (Dark Opus)
Sitrom Rogir - Drums (Sacrilegious Rite)
Amduscias - Bass (Bloodoffer, Bran Barr, Conviction, Temple of Baal, Banished Spirits, Fly Strike, Antaeus)
Former/past member(s):
Baron des Adrets - Bass
J. - Drums
Lhorn - Drums (Panzerfaust)
Additional notes:
Vocalist Aguares is not the same guy who plays in
Callicles
. Ahkaeus was the owner of Paleur Mortelle.
Also appeared on the "Tormenting Legends Part II"
compilation
2xLP (Blut & Eisen Productions, 2006) with the track "Amertume". Originally a solo project. Akhaeus joined the band in 2000.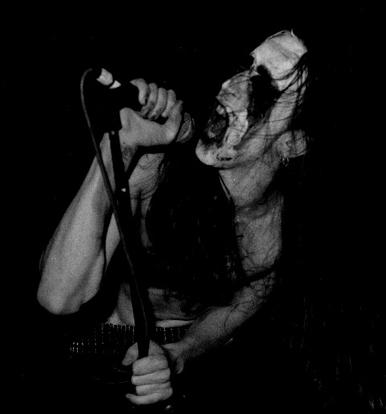 Discography:
Bael - Dévotion Infernale [demo] - 1998
Bael - Perdition De L'âme [demo] - 1999
Bael - Souffrances [demo] - 1999
Bael - Ribaudes Du Démon [demo] - 2000
Bael - Deathly Pale [demo] - 2001
Bael - Infernal Procession [demo] - 2002
Bael - Le Règne Du Sang [ep] - 2002
Bael & Secrets Of The Moon & Armagedda & Dark Storm - Black Metal Endsieg III [split] - 2002
Bael - Bleeding For Him [ep] - 2003
Bael & Krieg - Bleeding for Him/The Church [split] - 2006
Bael - Néant [ep] - 2010
*****
Official Site:
Encyclopaedia Metallum