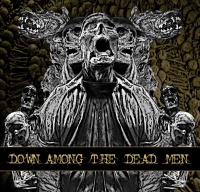 *
Artist
: Down Among The Dead Men
*
Album
: Down Among The Dead Men
*
Year
: 2013
*
Genre
: Old School Death/Thrash Metal
*
Country
: Sweden

*
Format
: mp3@CBR128kbps

*
Size
: 43MB
Tracklist
:
01. Down Among The Dead Men
02. The Doomsday Manuscript
03. Adolescence Of Time
04. Bones Of Contention
05. Dead Man's Switch
06. The Stones Lament
07. A Handful Of Dust
08. Dead Men Diaries
09. As Leeches Gorge
10. Draconian Rage
11. Venus Mantrap
12. Infernal Nexus
13. The Epoch
******************************
Total playing time
: 30:12
Extended info
Self-titled debut album from DOWN AMONG THE DEAD MEN featuring former BOLT THROWER and BENEDICTION vocalist, DAVE INGRAM along with Swedish Death Metal mastermind ROGGA JOHANSSON and DENNIS BLOMBERG.

[ Hidden Text ]