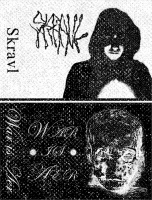 *
Artist
: Skravl & War Is Aer
*
Album
: Skravl/War Is Aer [split]
*
Year
: 2018
*
Genre
: Black Metal | Black Metal
*
Country
: Denmark
| Denmark
*
Format
: mp3@CBR320kbps
*
Size
: 75MB
Tracklist
:
Skravl:
1. Hole of Light 08:11
2. Where I Can Finally Dwell 03:15
3. Finite Days 04:23
War Is Aer:
4. The Falling Co-ordinates of Time and Space 07:27
5. The Burning Wish of the Sun 08:38
******************************
Total playing time
: 31:54

Extended info
First appearance from these two solo projects, sprunged from the fertile grounds of the Korpsånd collective.

As always, terrific melancholic and heroic Black Metal sound from the danish soil.

Released on digital and cassette formats through Legion Blotan.
Technical info
Input File: 04 War Is Aer - The Falling Co-ordinates Of Time And Space.mp3
Channels : 2
Sample Rate : 44100
Precision : 16-bit
Duration : 00:07:28.08 = 19760196 samples = 33605.8 CDDA sectors
File Size : 18.3M
Bit Rate : 327k
Sample Encoding: MPEG audio (layer I, II or III)
Comments :
Title=The Falling Co-ordinates Of Time And Space
Artist=War Is Aer
Album=Skravl / War Is Aer
Tracknumber=4
Year=2018
[ Hidden Text ]