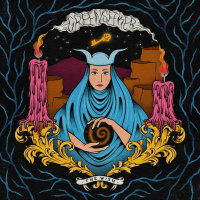 *
Artist
: Greenseeker
*
Album
: The Wish
*
Year
: 2022
*
Genre
: Psychedelic Rock/Doom Metal
*
Country
: United States
*
Format
: mp3@CBR320kbps
*
Size
: 129MB
Tracklist
:
1. The Iron Tree 07:25
2. The Wheel and the Stone 04:52
3. Return to the Mortal Plane 07:34
4. Diviner / Charmed Apprentice 07:08
5. Uncharted Realms 07:20
6. Master of the Storm 07:34
7. The Wish 11:40
******************************
Total playing time
: 53:33

Extended info
Line - up:

Selina Cleary - Bass (Crimson Altar, Thirsting Altar)
Shea Gegan - Drums
Max Siegfried - Guitars (Dead Nexus, Taarna)
Lauren Hatch - Vocals, Keyboards

"The Wish" takes the listener on a journey through a fantasy universe filled with dark magic and mysterious characters. The High Priestess rules over the inhabitants of this realm through coercion and subterfuge, but fear of her own mortality and weakness leads her to seek an even greater power.

Several tales are told throughout the album, but the primary arc is played out in three acts: In The Wheel and the Stone, the High Priestess sends an adventurer out to find an enchanted stone believed to grant wishes, which she believes will sate her desire. In Uncharted Realms, an observer with the power to travel between worlds witnesses the Priestess unleash terror across the land and its citizens as her crusade for the stone wages on. Finally, in the title track, the Priestess holds the stone in her possession - but will it truly grant her wish?
Technical info
Input File: 06 - Master of the Storm.mp3
Channels : 2
Sample Rate : 44100
Precision : 16-bit
Duration : 00:07:34.00 = 20021400 samples = 34050 CDDA sectors
File Size : 18.2M
Bit Rate : 320k
Sample Encoding: MPEG audio (layer I, II or III)
Comments :
Title=Master of the Storm
Artist=Greenseeker
Album=The Wish
Tracknumber=6
Year=2022
Genre=Psychedelic Rock | Doom Metal
[ Hidden Text ]