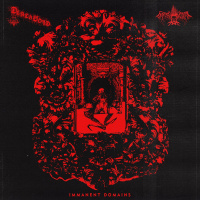 *
Artist
: Deathvoid & Sentiero Dei Principi
*
Album
: Immanent Domains [collaboration]
*
Year
: 2022
*
Genre
: Raw Black Metal | Black Metal
*
Country
: Italy
| Italy
*
Format
: flac
*
Size
: 109MB
Tracklist
:
1. Lava Forque 04:02
2. Quando il destino seguiva i nostri passi, come un pazzo con il rasoio in mano 04:51 instrumental
3. Camilaire 02:33
4. These Cold Crevasses 10:22
******************************
Total playing time
: 21:48


Extended info
Collaboration EP between household Xenoglossy Productions names SENTIERO DEI PRINCIPI and DEATHVOID. Nicola Redavid joined the Italian/Swiss trio on four songs alternating raw, bass-heavy black metal and eerie, disturbing droning dark ambient with distorted pianos and backwards feedback synths.
Lyrics are set in the dreamlike world of DEATHVOID, exploring immanent domains where abandoned structures in ruins lie among mysterious pillars and chasms.
[ Hidden Text ]